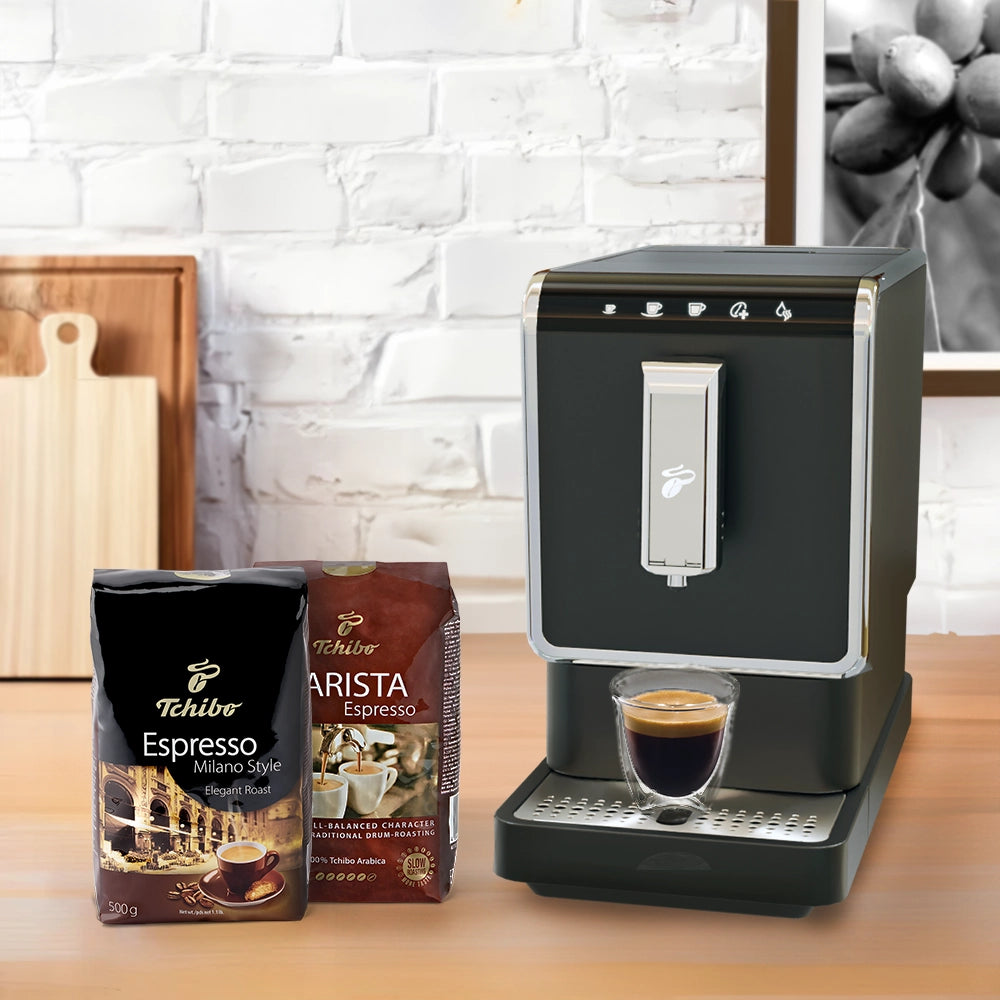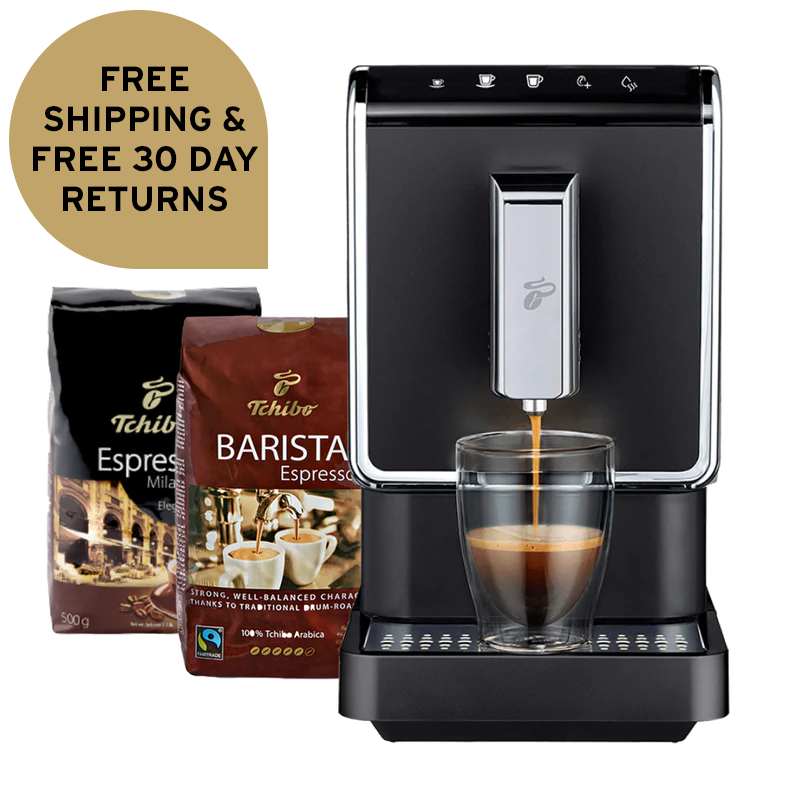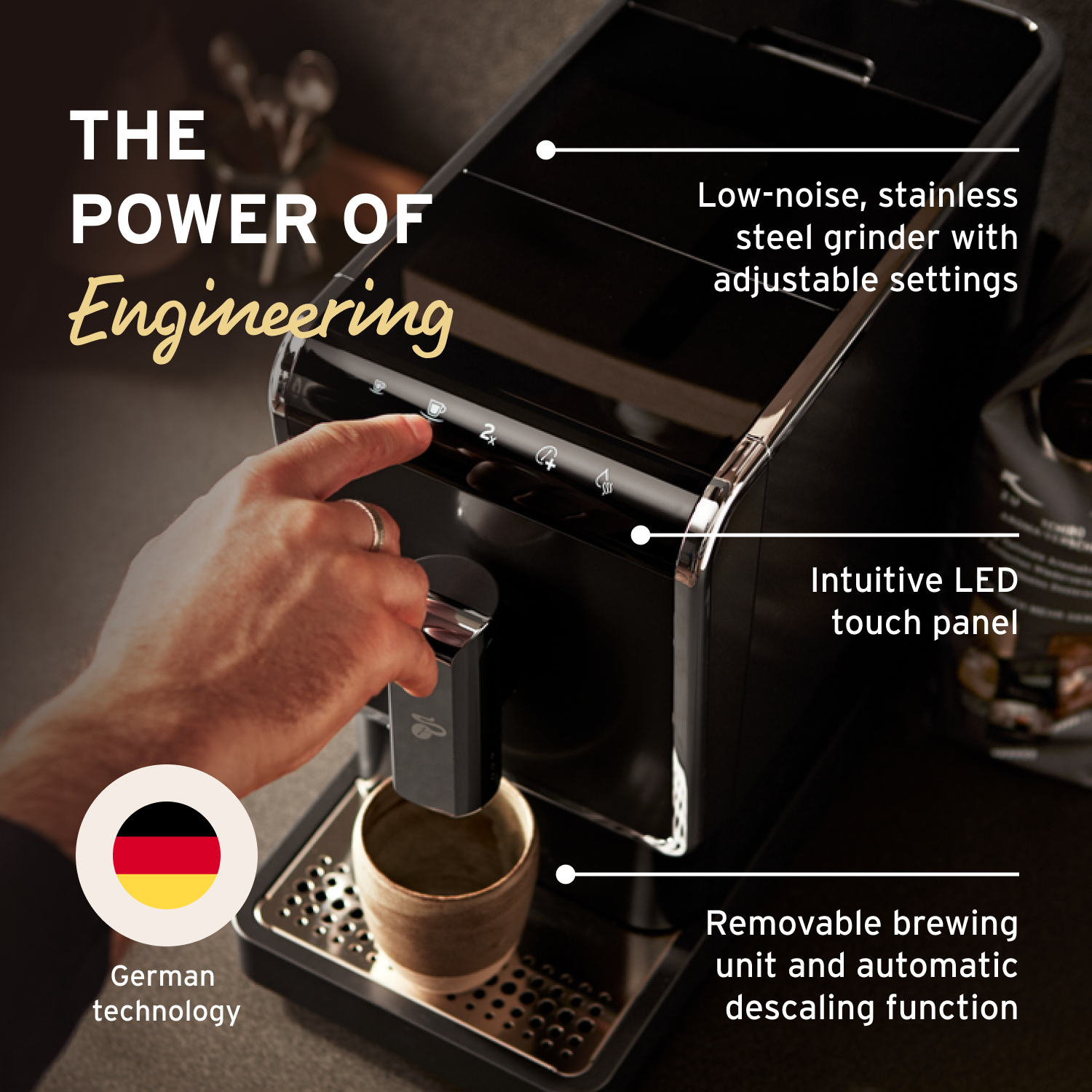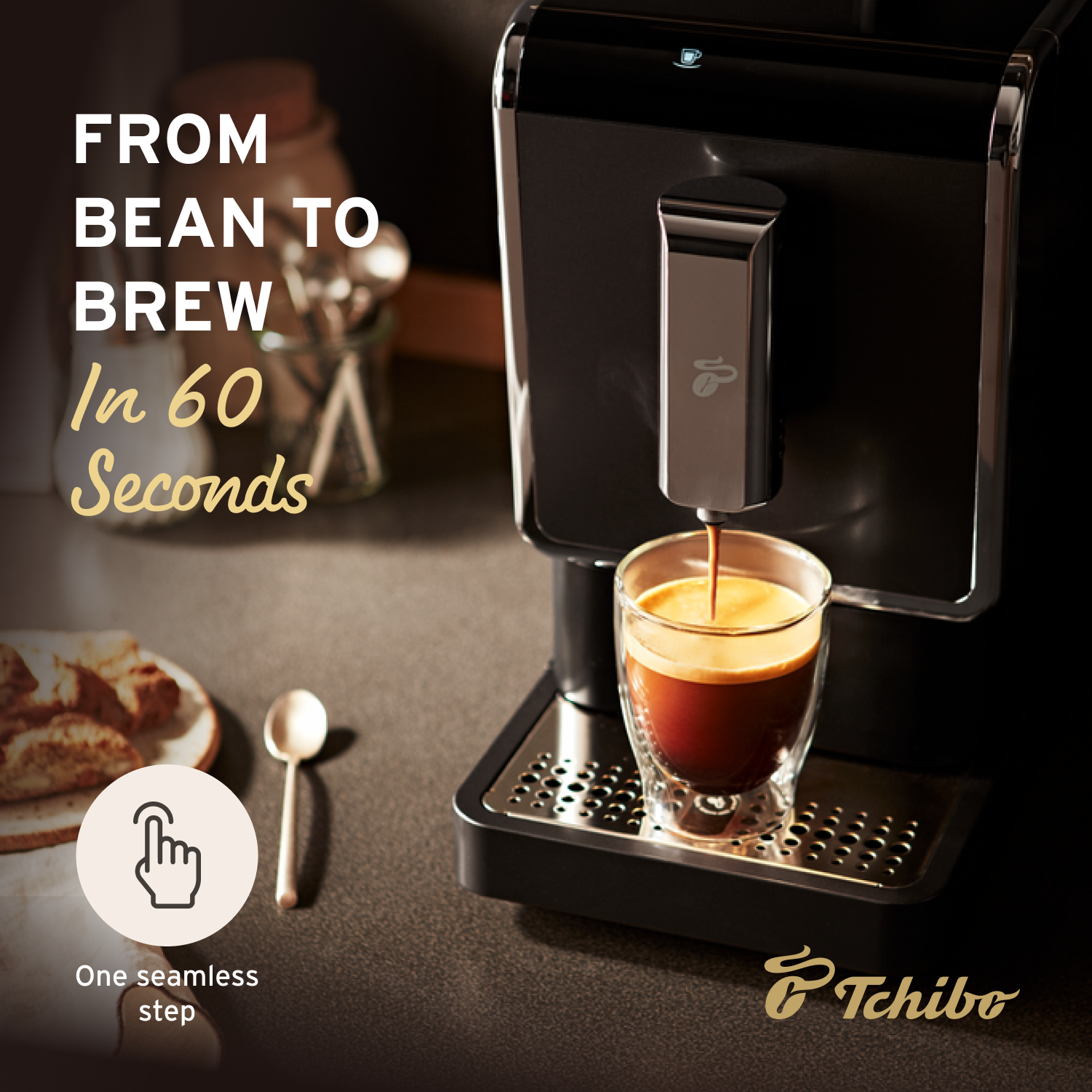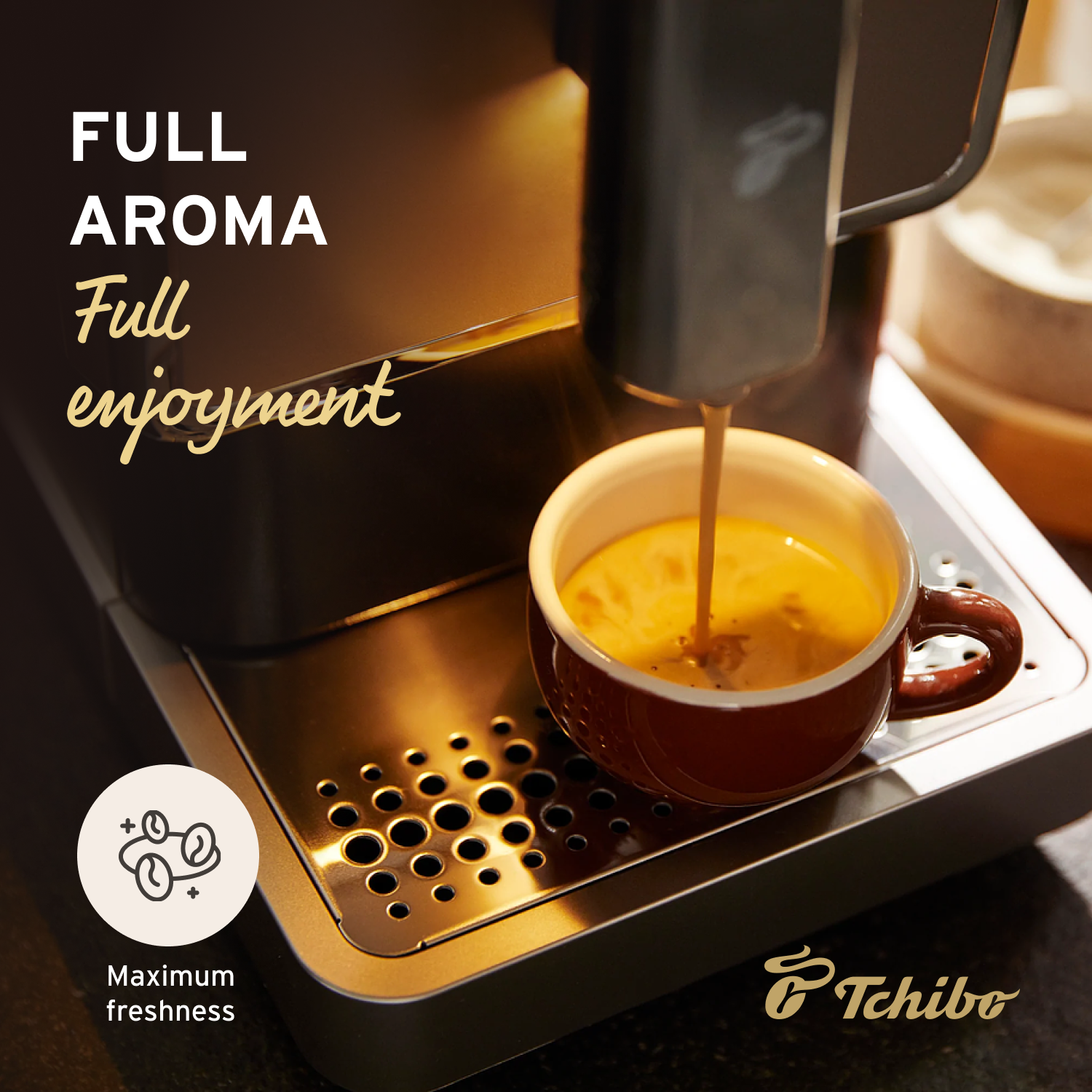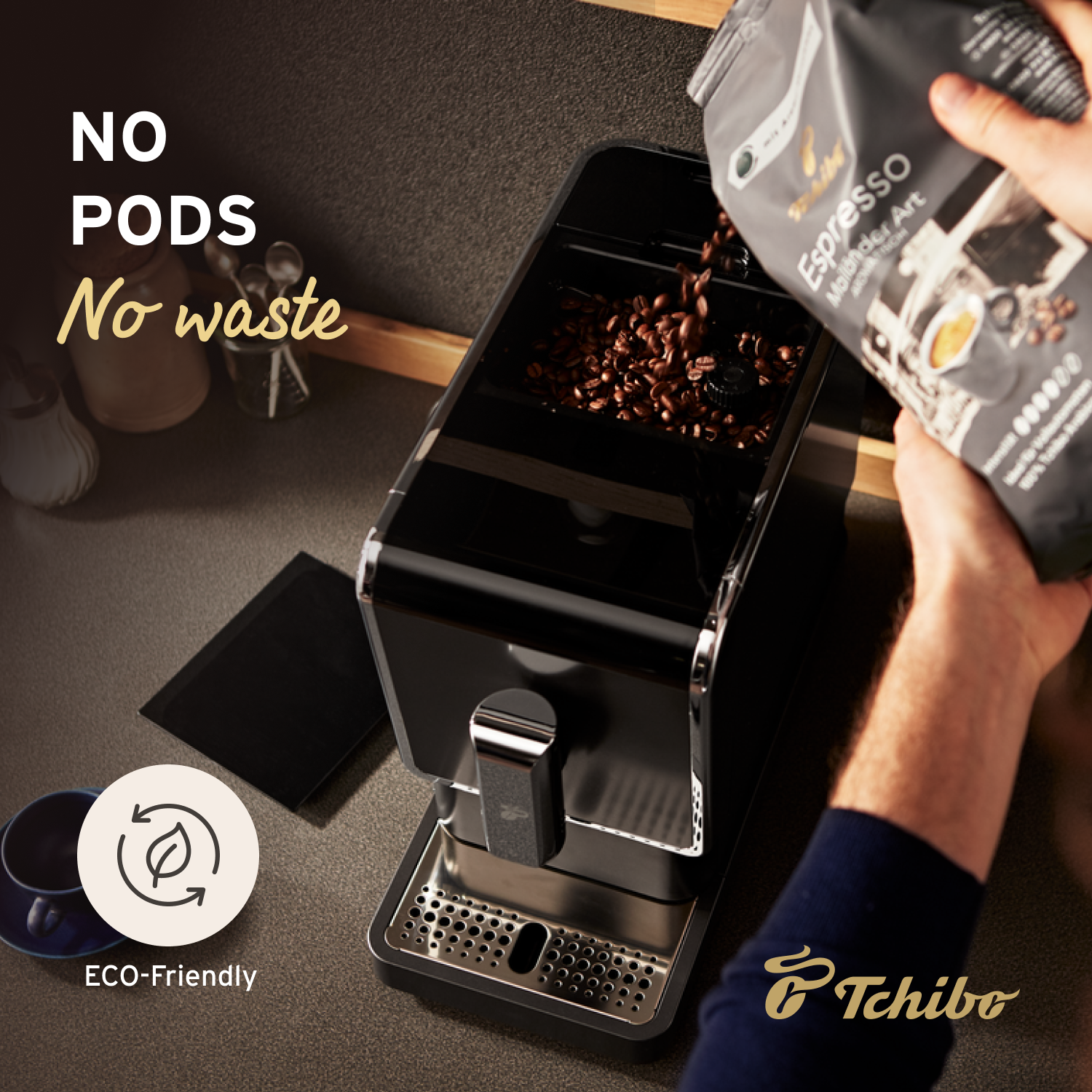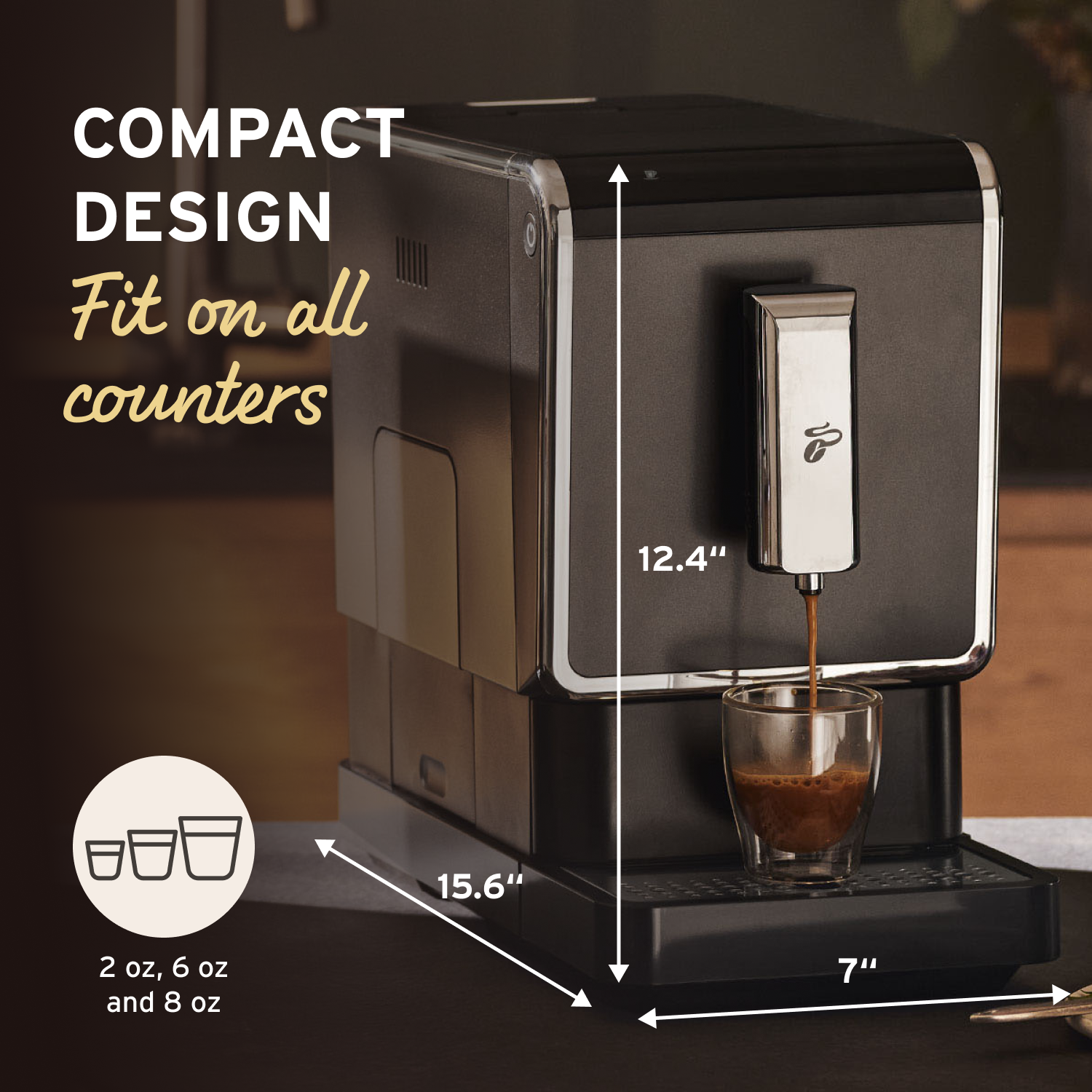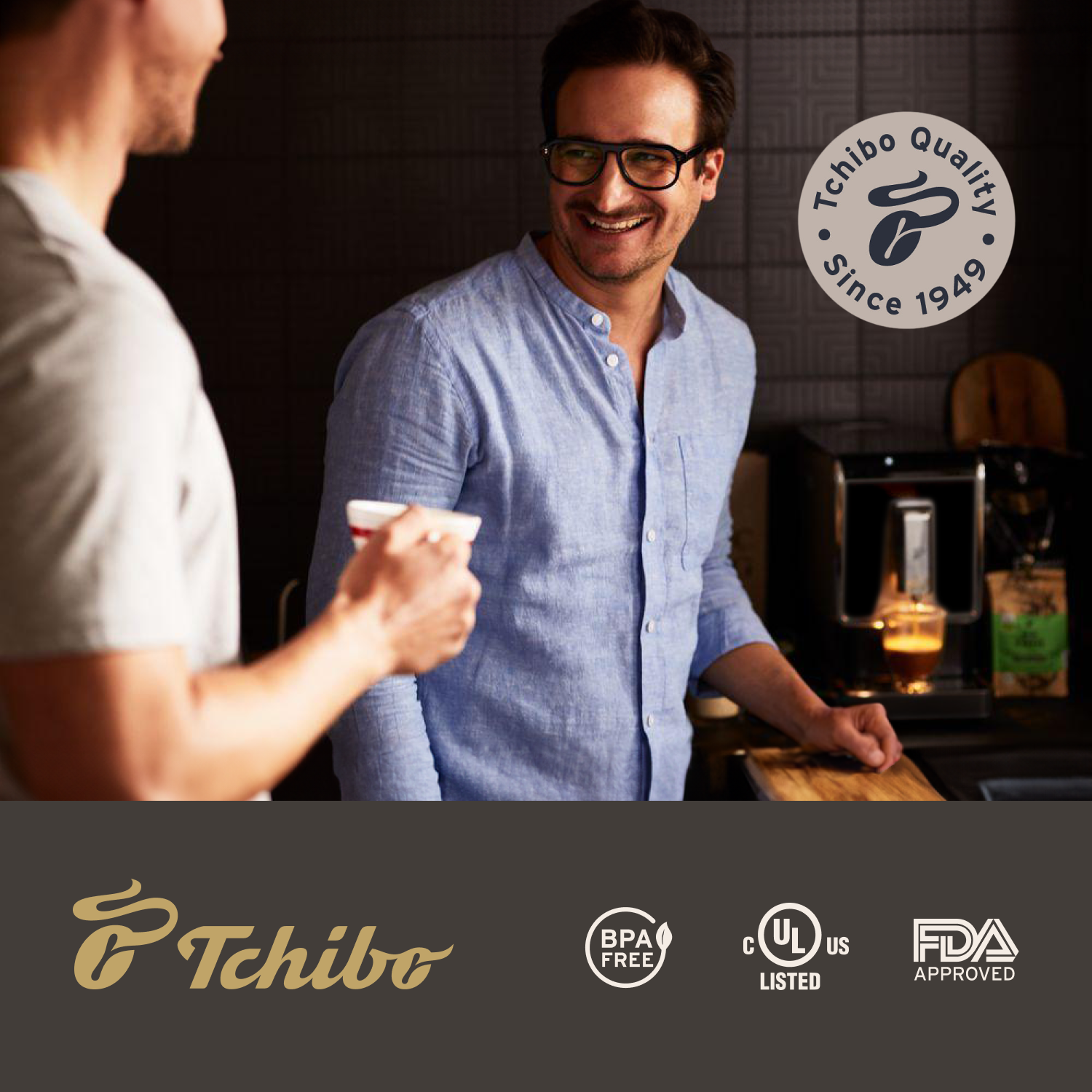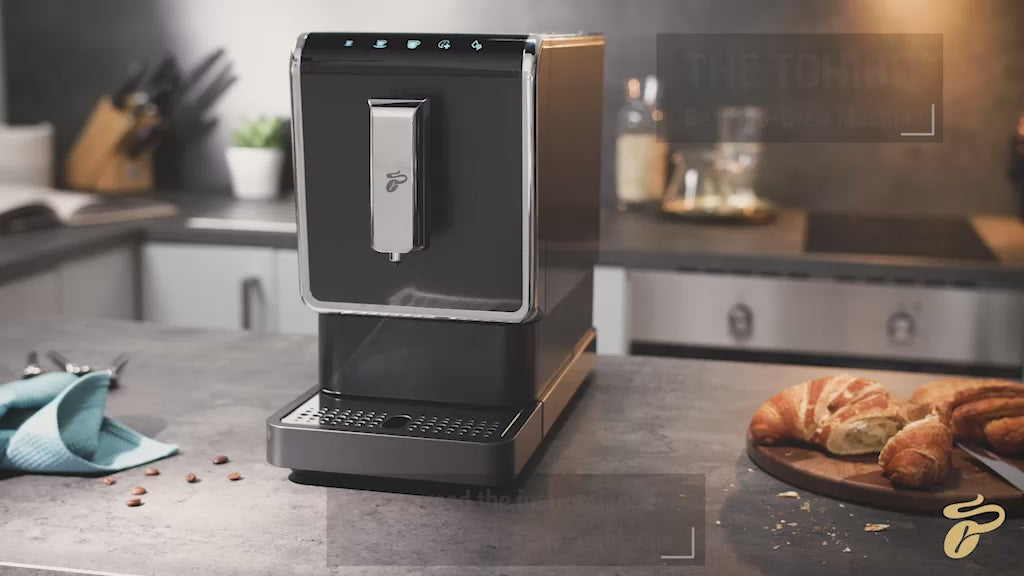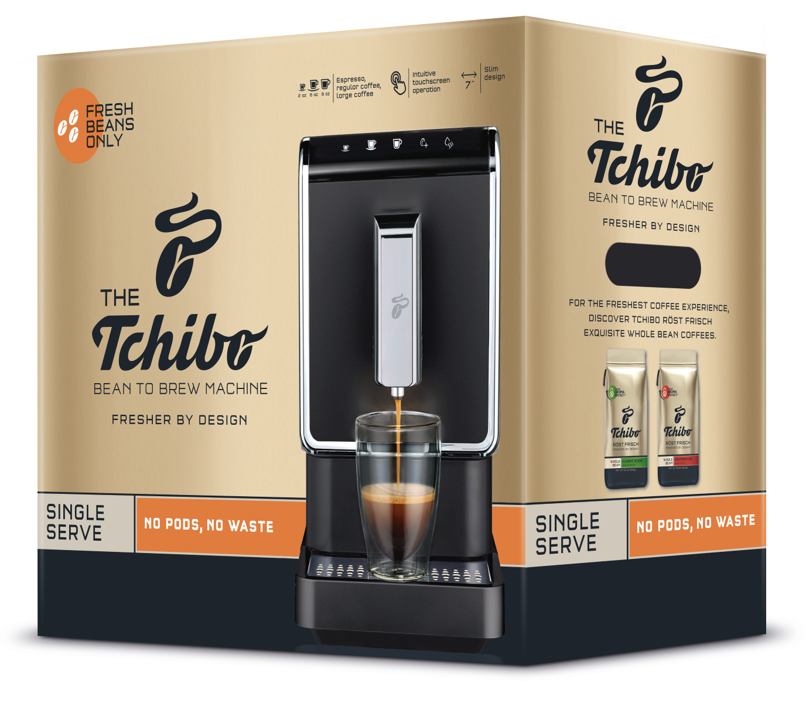 CoffeeCon Midwest special offer:
The Tchibo Machine Bundle
Includes: 2 bags of premium Tchibo coffee beans
$299
$531.98
Exclusive offer
Grind & brew your morning cup of coffee in one seamless step

Choose your preferred serving size, from a 2 oz espresso to an 8 oz brew

Enjoy super fresh, single-serve coffee without any pod waste
"It's like having a coffee shop in my kitchen"
- Keith W. (a happy owner of The Tchibo)
● In stock - free and fast US shipping
What makes The Tchibo great

One seamless step: Grind and brew fresh, single-serve coffee with the press of a button
Maximum quality: Built-in stainless steel burr grinder and high-pressure pump ensure consistently high-quality brews
Made to order: Choose between a 2 oz energizing espresso, 4 oz small coffee, or a hefty 8 oz brew
Slim, compact build: Made to fit and look great on all countertops
Intuitive LED touch panel: Easy-to-use touch panel with a sleek European design
Extra kick: Increase the intensity of your roasts with our innovative Boost Button
Space-saving design: (W) 7" (H) 12.4" (L)
15.6"37.2 oz water tank with integrated filter
Expandable coffee bean compartment (from 5.64 oz to 10.6 oz) with aroma protection seal
Coffee grounds container for 10 portions
Pump pressure: 275.6 P.S.I (19 bars)
Versatile serving sizes: 2 oz espresso shot, 6 oz regular coffee, & 8 oz large coffee
Height-adjustable coffee dispenser with a maximum cup height of 6.1 inRemovable brewing unit allows for easy cleaning
Descaling indicator & easy, automatic descale program
Made from stainless steel & BPA-free plastic
Weight: 18.1 lbs
Power: 1,470 Watts
Frequency: 60 Hz
Voltage: 120 V
Cable length: 31.5 in
All orders containing a The Tchibo machine enjoy free, fast and secure US shipping.

We offer a risk-free 30-day free trial. You can return your machine within this time period, no questions asked.

Additionally, your machine comes with a one-year, limited warranty, extendable by a maximum of four years.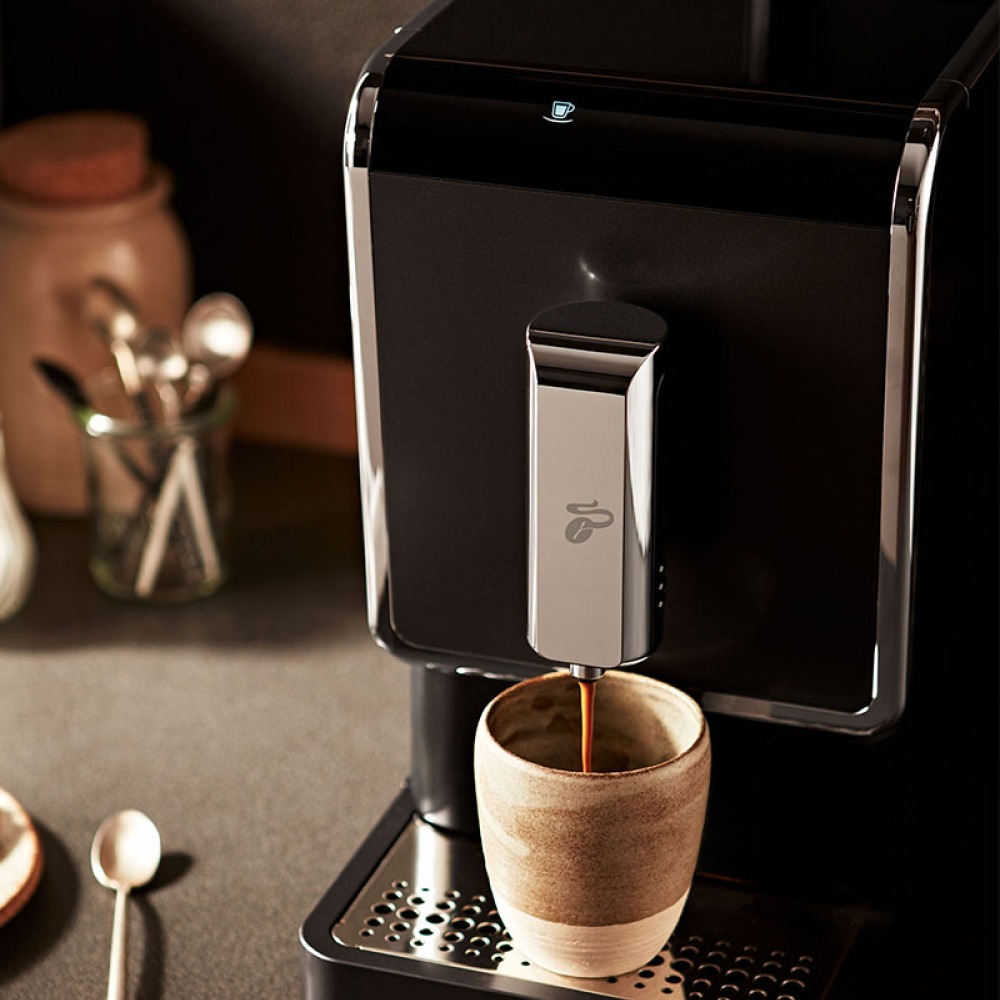 Enjoy barista-quality coffee from the comfort of your kitchen
Say goodbye to expensive pods and stale coffee. Meet the Tchibo: the single-serve coffee and espresso machine that grinds your favorite beans and brews your coffee in one seamless step. Simply pour in your beans, choose your serving size, and hit play for fresh, aromatic coffee in every cup.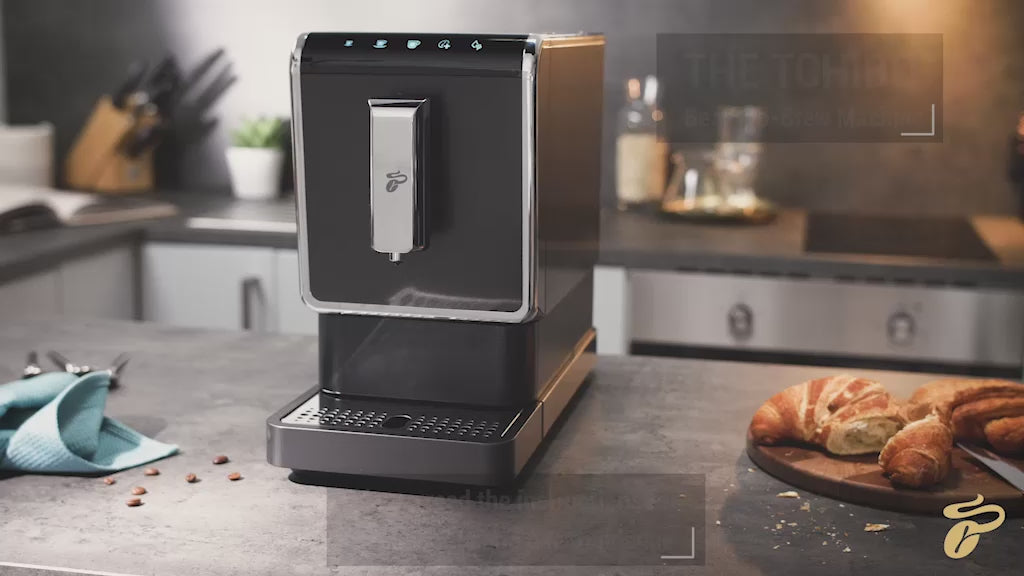 German technology meets ultimate convenience with The Tchibo
Powered by German technology and over 70 years of European coffee tradition, our automatic, bean-to-brew coffee and espresso machine guarantees fresh, high-quality coffee for years to come. The Tchibo is FDA-approved and pre-tested before it's shipped to the US.
Hear from coffee experts
Want to watch The Tchibo in action? Watch these honest expert reviews for a better understanding of what The Tchibo has to offer.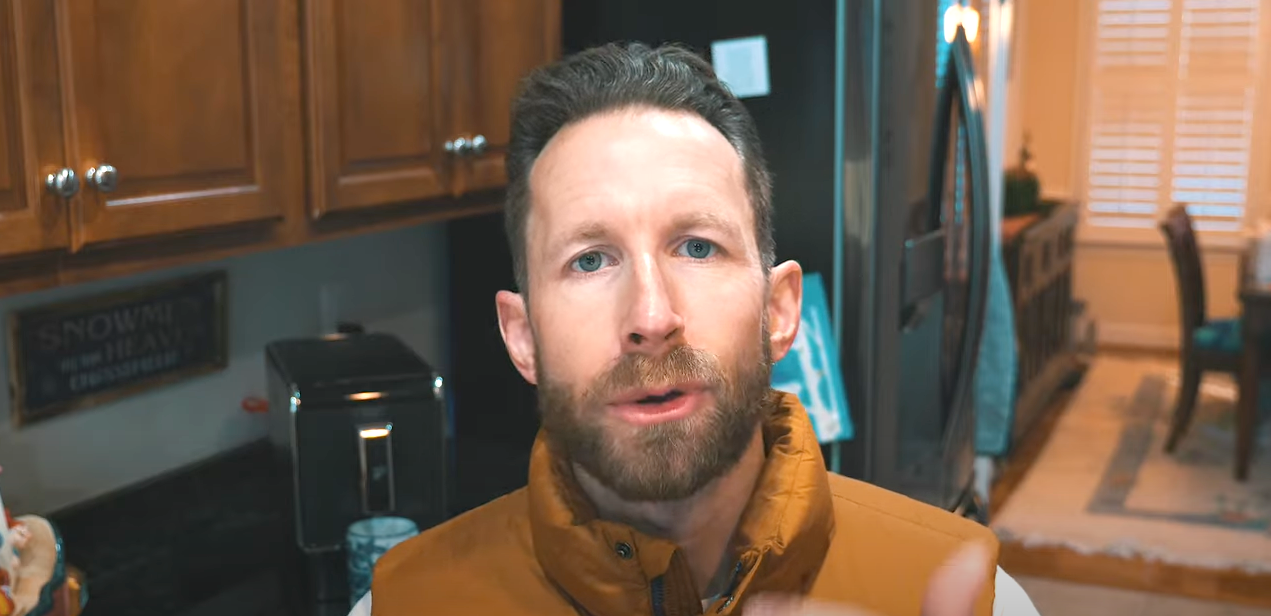 "It has earned a spot on my counter"
Bradley loves the sleek design, adjustable settings, and versatility of The Tchibo. The convenience and ease of a fresh, delicious, single-serve coffee is unmatched.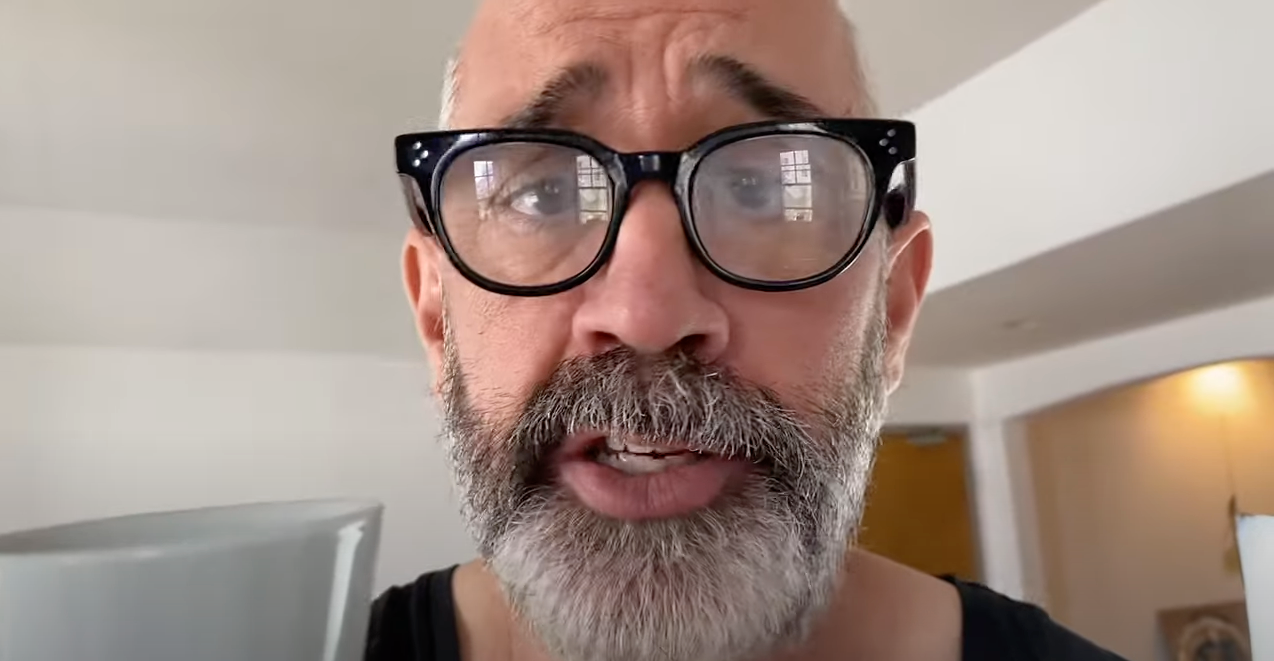 "Your friends are gonna flip out!"
Edward was tired of the waste and expense of pod machines, so he decided to switch to The Tchibo. He loves fresh coffee and convenience, and found the perfect mix with our machine.
"The best espresso you can make at home"
Meet Michael's favorite machine for making fresh, aromatic espressos right in his kitchen: The Tchibo. Michael enjoys the fantastic taste, beautiful crema, and immense value for money.
CUSTOMER REVIEWS
See what other coffee lovers have to say about The Tchibo
Meet The Tchibo Espresso & Coffee Machine: A Coffee Shop on Your Countertop
The Tchibo espresso and coffee machine is a state-of-the-art, bean-to-cup, grind-to-brew, super automatic espresso machine and brewer, designed to transform your everyday coffee experience. With its sleek, modern design and intuitive features, it brings the coffee shop experience right to your kitchen, allowing you to enjoy barista-quality coffee from the comfort of your home.
Innovative Design & Superior Quality
The Tchibo espresso and coffee machine boasts a space-saving design, measuring (W) 7" (H) 12.4" (L) 15.6", making it a perfect fit for any kitchen countertop. Crafted with meticulous German engineering and over 70 years of European coffee tradition, The Tchibo guarantees outstanding brews for years to come. The elegant, intuitive LED panel with touchscreen operation adds a touch of sophistication to your kitchen décor.

Exceptional Features for Coffee Aficionados
The Tchibo is equipped with a 37.2 oz water tank with an integrated filter and an expandable coffee bean compartment, ranging from 5.64 oz to 10.6 oz, complete with an aroma protection seal to keep your coffee beans fresh. It also features a coffee grounds container that can hold up to 10 portions, making it convenient for those who love to frequently brew.
Customizable Brewing Options
With the Tchibo espresso and coffee machine, you can brew your coffee to your exact specifications. Choose between a 2 oz espresso, 6 oz regular coffee, or 8 oz large coffee on the elegant LED touch panel. For lovers of strong, rich coffee, The Tchibo comes equipped with a Boost Button to increase coffee intensity, ensuring each coffee is brewed just the way you like it.
Easy Maintenance & Eco-friendly
The Tchibo's removable brewing unit and automatic descaling function mean effortless cleaning for better-tasting coffee. Our machine is UL Listed in the US and FDA-approved, ensuring safety and quality in every cup. The Tchibo does not require coffee pods, which allows you to enjoy the convenience of single-serve coffee without any unnecessary waste.
High-Quality Materials & Efficient Performance
Constructed with high-quality stainless steel and BPA-free plastic, The Tchibo is designed to last. It operates at a power of 1,470 watts with a high-pressure 19 bar pump ensuring powerful and efficient performance. The built-in stainless steel burr grinder with stepless grind level adjustment guarantees freshly ground, aromatic coffee cup by cup.
Risk-Free Trial & Free US Shipping
The Tchibo coffee machine comes with secure, efficient, and free US shipping. Each machine is pre-inspected and tested before it's shipped to the US, ensuring it's ready to brew the moment it arrives on your doorstep. Tchibo offers a 30-day risk-free trial, allowing you to return the machine within 30 days if you are not satisfied.
Customer Satisfaction & Reviews
The Tchibo espresso and coffee machine has received rave reviews from customers, with a 4.5 rating based on 153 reviews. Customers have praised the machine for its great taste, simplicity, and sustainability, calling it a "coffee lover's dream machine" and a "great sustainable option for good coffee."